What do you really need to look for when searching for a good, reliable casino hire company?
Experience and reliability

Good range of casino games

Well maintained full-size casino tables

Friendly and responsive customer service

Value for money

A quality-driven outfit - not a cheap wannabe

Smart, professional and interactive croupiers

Fully PL insured and risk assessed business

Great reviews from happy and delighted clients like the ones below
Dealing out fun since 1994.
Not all casino hire operators offer the same commitment to service, quality and customer care and we're always here to help.
Casino Hire London is open for the booking of future events when you can celebrate getting together with friends and colleagues once more. So if you're planning for an event in the next few months, still get in touch, as we're open for business when the present restrictions are lifted...
Keep well. Keep safe.
#Thank you to the NHS
#Let's party like it's 1999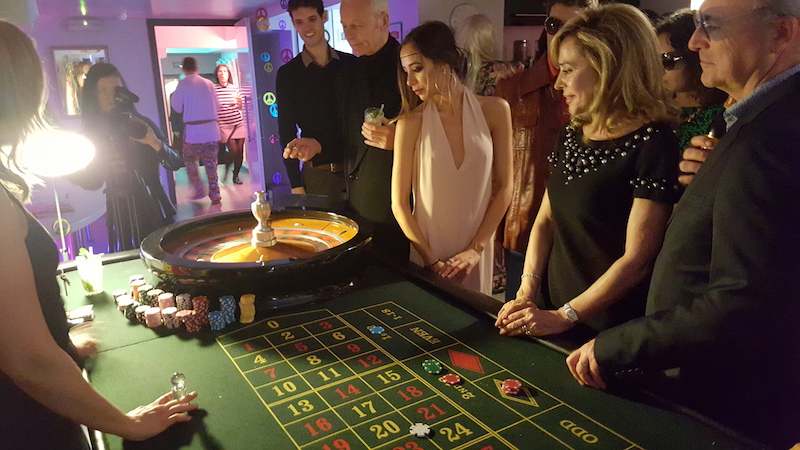 ---
2020 REVIEW - NEW YEAR'S EVE 2019/2020
Casino Hire London made hiring our very own casino so easy. Our croupier, Tom, was extremely professional, friendly and helpful - and completely unfazed by a marquee full of 21 year-old 'high rollers'.

Lisa R - Barnes
Hire from Casino Hire London - the casino hire specialists.
---
GREAT REVIEW - DECEMBER 2019
Everyone had a fantastic time at the casino party. The croupiers made it really fun and got everybody participating. From setup to packing up, all I had to worry about was food and drink. Casino Hire London took care of the rest. This is by far the most enjoyable thing we've done for our festive staff parties.
Wishing you a great 2020!
Lynn Burgess - Highgate
Hire from Casino Hire London - the casino hire specialists.
---
FABULOUS REVIEW - 50TH BIRTHDAY PARTY - 2019
Just wanted to say a HUGE thank you for providing such a wonderful service and aspect to my 50th party. You are right - it absolutely made the evening and was worth every penny.
Everyone loved it, and the personalised money, and the prizes for the top three scorers went down a treat. All in all, a glistening extra layer to my party and one that truly broke the ice.
And the two croupiers were absolutely first class - great fun, entertaining, dynamic and their warmth made people enjoy themselves to the max. Awesome!
Many thanks again and I'm sure I'll be using you again in the future.
With very best wishes
Dominic Canty www.dominiccanty.com
Thank you Dominic for the booking.
---
ROULETTE BLACKJACK TEXAS HOLD 'EM CRAPS/DICE WHEEL OF FORTUNE
2 Full-size Casino Tables
---
2 Croupiers in Black Tie
---
Dealing up to 3 hours
---
Finish before midnight
---
Full size tables with Green Layouts
---
Plus Delivery
---
Unlimited Fun
3 Casino Tables
---
3 Croupiers in Black Tie
---
Dealing up to 3 hours
---
Finish before midnight
---
Full size tables with Green Layouts
---
Plus Delivery
---
Unlimited Fun
4 Casino Tables
---
4 Croupiers in Black Tie
---
Dealing up to 3 hours
---
Finish before midnight
---
Full size tables with Green Layouts
---
Plus Delivery
---
Unlimited Fun
20+ Casino Tables
---
30 Croupiers in Black Tie
---
Dealing from 3 - 12 hours
---
Start/Finish Anytime
---
Full size tables with Green and Black Layouts
---
Plus Delivery
---
Unlimited Fun
---
Trusted by more than 3500 individual clients over an operating period of more than 26 years
That's nearly half a million guests who have had fun at our casino tables since 1994
You want style, value and a casino night to remember - we've been providing a service for guests for over 26 years! Our authentic full size casino tables and wheels are the kind that you would find in a real casino, but you can only win as you won't lose any real cash.
Our fantastic professional croupiers are of the highest calibre, of smart appearance and are simply great with your guests and clients. Our focus is on casino hire entertainment in a risk free environment and no real money changes hands.
Fantastic for all parties and celebrations - the most interactive form of entertainment there is! You can raise funds for your club, charity, association or PTA - it's all perfectly legal.
We also offer casino theme packages to enhance your casino party 007, Las Vegas, Hollywood, Wild West, Prohibition - well anything you like really, we can organise everything for you!
The team has been involved in events management, (not just fun casinos) for over 40 years. If there is something special you require for your event, something a little more bespoke, then let us have your requirements in the form below, and we'll get back to you. Whether it's flowers, pop-up bars, photo-booths, magicians, champagne fountains, the list is only as limited as your imagination....
Casino Hire London has been in the business of supplying fun casino entertainment since 1994.
With over 30 full size casino tables for hire in stock we can do petite, medium and grand events.
We are not the biggest casino hire operator you'll come across, however, Casino Hire London offers a very personal service for Clients - both old and new.
Casino Hire London offers a seamless service and unique casino event experiences around London - whatever the weather, and wherever your event is being held. We do travel elsewhere, if required, and have done UK wide roadshows for Amazon, Diesel and Ralph Lauren. Even down to Provence for Legal Week too.
---
You may only ever hire fun casino entertainment once in your life - so make the one perfect choice right here, right now. We only use our own pictures on this website - and there's a real person at the end of the phone - without a script... Let's have a chat about your event - we will make it extra special - that's a promise!
---
Casino hire is great for all types of events and all ages. As a potential client, when considering all forms of event entertainment, casino table hire covers off most of the essential requirements for a successful event. It has interaction, provides excitement in a risk free environment as no money changes hands, just fun money, is incredibly cost effective as you can entertain lots of guests at a minimal per unit cost per head, and it is fun!
Nearly every client chooses to go first with roulette hire. It is one of the oldest games and centuries old, has many legends of stories and even songs associated with it. Roulette is stylish, evokes charisma, is synonymous with James Bond and has many variations for different types of bets. Roulette is also very easy to pick up at the table and kids as well as the older generation love it. Roulette will always be a winner.
If you are planning on a fundraising event, then casino nights come out on top. You can sell the casino night fun money to guests and get all the funds raised back to go into your fundraising pot. It's a chance to dress up, pretend you're rich for the night and gamble away like a demon. Blackjack hired alongside roulette makes a very popular mix of gaming tables for up to 80 guests. Think about addingin more tables if you are expecting larger numbers. A theme is always a good idea to make your investment into casino equipment hire really pay off.
If you are having a family celebration then a casino night party is definitely one to have. An 18th, a 21st, 30th, 40th, 50th, 60th, 70th - well any age no need for an excuse to include fun casino hire into your festivities. Casino night hire is for anyone who wants to get everyone together, whatever the reason.
Casino Hire London covers all of London and the outer limits too - we haven't been invited to entertain up in space as yet, but we'd definitely accept the invitation!
Hire a casino for any event, at any time of year, for any occasion. Casino Hire London also runs and manages poker nights. We are a mobile casino operator of over twenty years standing. When you decide to hire casino equipment - choose the professional casino operator that brings a smile to your guests every time! With a bit of luck you'll choose Casino Hire London.

more...
Copyright Casino Hire London 2019